In late 2001, the Roberts family lived in England and planned a big weekend to celebrate their son Chad's third birthday. They hoped to visit both London and Paris. But before they could get away, Chad developed a fever that wouldn't break. So rather than enjoying a family vacation, they spent the day in the hospital where doctors informed them Chad had leukemia.
"I remember looking over when they drew his blood, and it looked pink because of all the white blood cells," Chad's father, Mike, recalled. "The next morning, we were told he had acute lymphoblastic leukemia."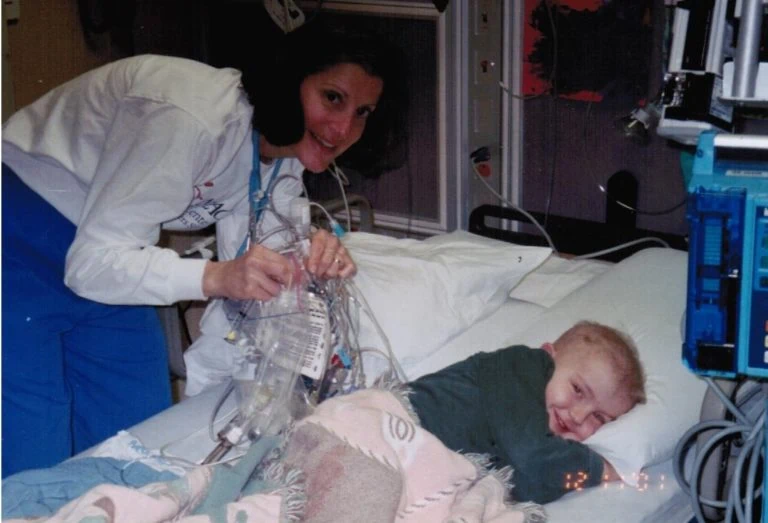 Further testing revealed that Chad was actually suffering from a different kind of leukemia, chronic myeloid leukemia (CML), which is very rare in children. The first task was to get his white blood cell count down so that he could travel home to the United States for treatment. This was only weeks after the September 11 bombing, so travel itself was no easy task. The family had to stay in England for another 45 days, but his counts finally allowed them to fly home.
When they arrived in Atlanta, preparations began for a critical bone marrow transplant. Every member of the family was tested, but surprisingly, none were a match. Fortunately, a donor was found who was a 100% match, and Chad had his transplant.
"Chad was the first bone marrow transplant recipient at Children's Healthcare of Atlanta to get marrow from a non-related donor," shared his mother, Bridget. "There was concern about his body accepting the marrow, but he would have died without it."
Chad went home just before Christmas. A few days later, he was declared cancer-free and has been ever since. He is now 23 years old and enjoying life, working as a plumber in Flowery Branch, Georgia. Although cancer is no longer a concern, he does have some health setbacks that his family suspects might be long-term side effects from his treatment.
The Roberts family met CURE shortly after arriving at the hospital. Although their cancer story ended nearly 20 years ago, their involvement with CURE did not. They have been consistent donors since 2002 and joined our monthly donor program nearly ten years ago.
"When we first got the diagnosis, Chad was given less than a 40% chance to survive," Mike said. "After his treatment ended, we were determined to pay it forward for other families fighting cancer. We knew we couldn't write one big check, so monthly giving seemed like a great option. Because of CURE's impact on us and their investment in research, we knew we wanted to partner with CURE."
We call our monthly donor Dream Makers because every child deserves the chance to live out their dreams. Dream Makers provide a consistent and reliable source of funding. Over time, a simple monthly investment can lead to a big impact on children with cancer. If you would like to learn more about becoming a Dream Maker, visit curechildhoodcancer.org/dreammaker, or contact David Stokes at [email protected].