Diagnosed with Acute Lymphoblastic Leukemia (ALL) at just six years old, 15-year-old Robert's childhood has been consumed by cancer. In the eight years since his diagnosis, Robert has endured 800 rounds of chemotherapy, 65 spinal taps, and countless surgeries trying to beat his cancer. It's been an arduous fight!  But Robert is such an incredible boy and has earned his nickname, Robert the Great.
There is one event Robert looks forward to every year – Lauren's Run and the CURE Childhood Cancer Annual Picnic. Each year he creates Team Robert the Great and raises money to fight for kids like him. Having won the award for top fundraising team several years, Robert is a pro when it comes to inspiring people to give.
We sat down with Robert to ask him to share the secrets of his success.
CCC: How many years have you been doing Lauren's Run?
RTG: I think seven.
CCC: How do you build your team?
RTG: We ask family and friends to come. Most of them agree, and if they can't they always donate. Last year we had around forty members on our team, and we won the team spirit award.
CCC: How did you win that?
RTG: My mom and her friends are loud.
CCC: You also won the fundraising award last year. Tell me how you did that.
RTG: We ask people for money. If I ask, they'll usually give something. It's hard to ask and ask, so we tried to make it a game. My mom shared the page on Facebook and then we started doing funny videos. I told everybody I would smash my dad's X-box if we got to $10,000.
CCC: Did you get there?
RTG: Yup! Then I challenged another team captain. Whoever raised the most would  get to throw an egg at the loser.
CCC: Did you win?
CCC: That looks like more than one egg.
RTG: It was a dozen, I won by a lot.
CCC: What else do you like about Lauren's Run.
RTG: I love seeing all my friends I've met since I been fighting cancer. And I love the picnic too. There is great food, games to play, and oh yeah, and the game truck is awesome.
CCC: Any plans for this year?
RTG: Just to win.
When asked about his cancer, Robert simply said,
"I don't know much about it, but I know it won't go away."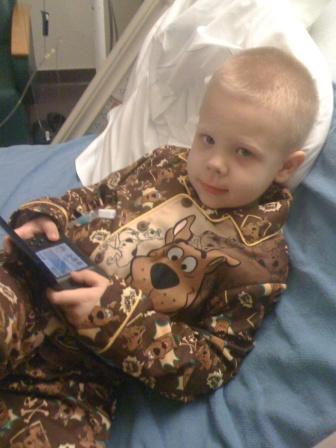 Robert is a fierce competitor in his fight against cancer and his goal of repeating as fundraising champion. You can join Robert, create a team, and work to end childhood cancer with us. Who knows, if things get competitive, Robert might challenge you!
This year marks the 25th Lauren's Run and the CURE Childhood Cancer Annual Picnic. We are celebrating this incredible milestone on April 28 at the Concourse Office Park in Atlanta.
Over the years, thousands of families have gathered to walk and run in support of CURE, raising more than $4.1 million for lifesaving pediatric cancer research. Lauren's Run and the CURE Childhood Cancer Annual Picnic truly brings the community together, with families, schools, and companies forming teams to support our fight.
After the race, Lauren's Run participants, as well as families diagnosed with childhood cancer, join together for the CURE Childhood Cancer Annual Picnic. The picnic is a day unlike any other! Dozens of games, prizes, elaborate face painting, enormous inflatables, music and dancing, arts and crafts, a full lunch, and so much more.
Registration is open at www.laurensrun.com