There is nothing like a grandmother's lap. Warmth, comfort, unmerited praise, and unlimited protection are found in that special place. It is a happy land of yes when the rest of the world shouts no.
Diane Rochester knows all about having grandchildren in her lap. Diane hails from Salem, Alabama. She has two adult children and now she loves to read, work in various ministries at her church, and garden with her husband. Most of all, she loves her family and adores being a grandmother.
The first to call her that name was Noah. Noah was born in an orphanage in Vietnam in 2000. After a long adoption process, he finally came home to his family when he was four months old. The entire family fell in love with him immediately.
"He was just the sweetest baby," Diane said. "My daughter and her husband were so proud of him. As he grew up they loved to ride bikes and camp out together as a family."
But at the age of seven, some red spots on his neck took them to the emergency room where they discovered that Noah had acute lymphoblastic leukemia (ALL). Noah would spend the next seven years fighting cancer. He reached remission twice during that time. But relapsed when he was twelve.
"He needed a bone marrow transplant but because of his heritage, we knew a donor would be hard to find," Diane explained. "We finally found a match, though. He spent Christmas in the bone marrow transplant unit and we were very hopeful."
Unfortunately, an infection set in that Noah's weakened immune system couldn't fight. He succumbed to the disease on Feb 14, 2013, devastating his entire family and breaking Diane's grandmother's heart.
"I've never cried so much in my life as when we lost that sweet boy," she recalled.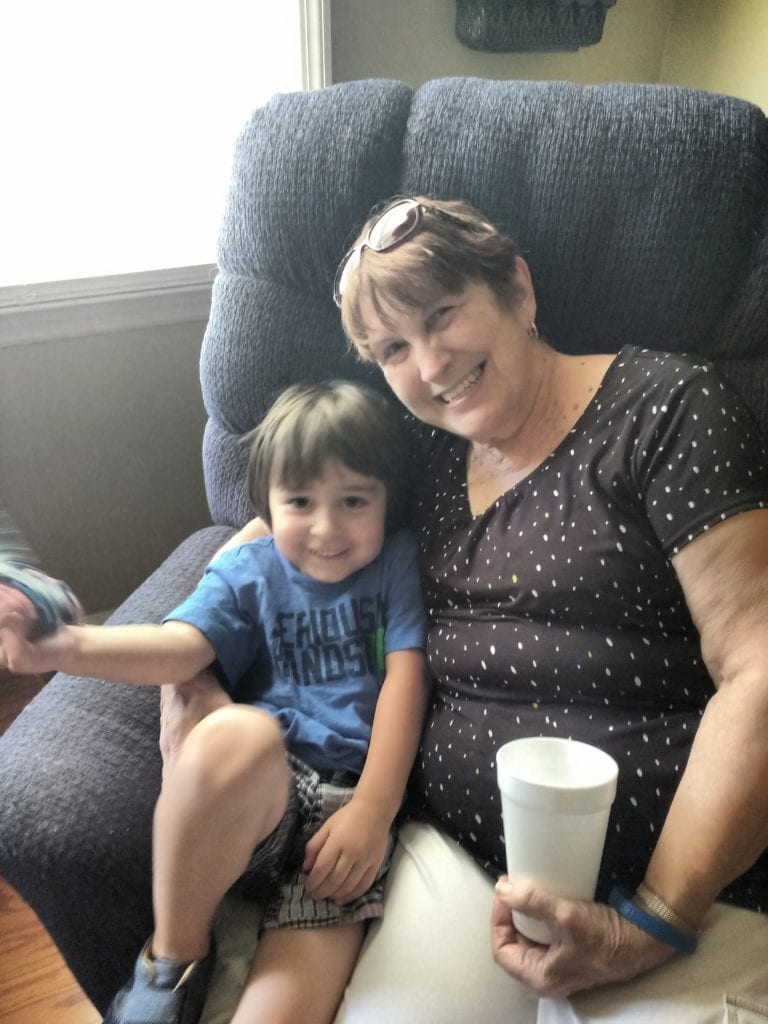 Just two months later, Diane's son had a little boy and they named him Ashton. Nothing could ever take Noah's place, of course. But Diane was ready to have another baby in her lap.
"Ashton is a sweet boy, too" Diane doted. "He loves to swim and play pretend. He's also very independent. He likes to do his own thing!"
Ashton's mother was not a U.S. citizen and began having immigration difficulties that prevented her from becoming a naturalized citizen. In early 2018, she made the decision to return to Mexico while they continued the process of obtaining a visa. When school ended, Ashton flew to Mexico to spend the summer with his mother. While he was there, sickness forced a hospital visit where an MRI revealed a tumor on his kidney. His father immediately joined him in Mexico and brought him back to the U.S. for treatment.
"We were in shock," Diane said. "Can you imagine – two grandsons with cancer? Ashton was only five and the tumor had grown to the size of a cantaloupe. They had to remove it and one of his kidneys, too."
The tumor was a Wilm's tumor – the most common type of kidney cancer in children. After successful surgery, Ashton began chemotherapy designed to prevent the cancer's return. He has been going once a week for outpatient treatment. There was a rough patch when he had chemo and radiation combined, but he is finished with radiation and soon to be finished with treatment completely. Diane says that he bounces back quickly each week and is doing well and ready to get back to kindergarten.
"People think childhood cancer is rare," Diane said. "But that's simply not the case. If you think it is, this is one grandmother who can set you straight."
Ashton and his family on CNN: