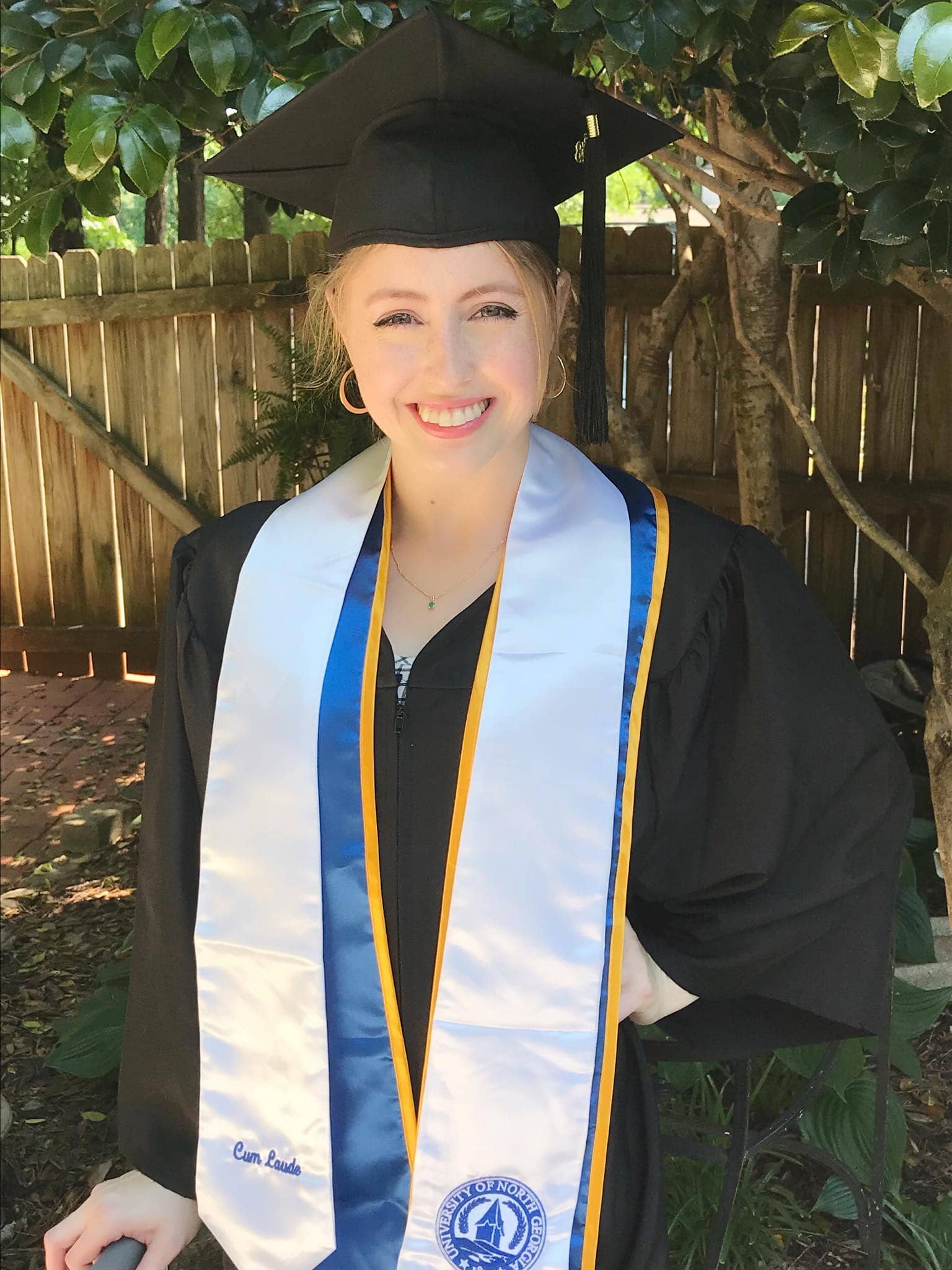 Last weekend, Kennedy Cobble walked the aisle beside 2000 other graduates at the University of North Georgia. While many were watching, few in the audience truly understood how many steps it took her to get there. When she was in the eighth grade, Kennedy was diagnosed with Osteosarcoma – an aggressive bone cancer. Over the next four years, she would beat cancer not just once, but four times: once in her sacrum, twice in her lungs, and once in her tibia.
"The hardest part was for me was that I had to watch my friends move on while I took a year off because of treatments," Kennedy said. "Falling behind is hard for a girl in high school."
After finally achieving remission, Kennedy graduated high school in 2011 and then took more time off. It wasn't the average gap year. Kennedy would need three years to fully recover – not from cancer, but from the years of harsh chemotherapy that wreaked havoc on her body.
"When I finished fighting the cancer, I had to fight the side effects from the treatment. Doctors replaced my sacrum, the lower half of my spine, and part of my pelvis," she detailed. "I had to have a knee replacement, a metal rod in my tibia, and my femur was so brittle it needed a metal plate to reinforce it. But I'm here!"
She was strong enough to resume school in 2014 and now she is a college graduate! Her degree is in early childhood education and she hopes to land a teaching job soon. With all she's been through, Kennedy will be a wonderful example of strength, patience, and perseverance to a lucky classroom of students.
When Andrew DuBois lines up with his fellow graduates to accept his diploma from The Walker School's principal, he likely won't be the tallest of the group. But he doesn't mind that at all. Andrew is pointed toward a promising future and a little thing like height won't bring him down.
While the other boys in middle school were hitting puberty and growing, Andrew noticed he was not. Initially doctors told him to be patient. But after a long period with no change, an MRI revealed a tumor pressing on his pituitary gland which caused a deficiency in growth hormones. The tumor was not spreading but the location meant it wasn't a candidate for surgery or radiation. His treatment began with a hormone supplement to try to bring on puberty, but that made the tumor grow. So Andrew started a regimen of chemotherapy.
The first chemo was very harsh and ineffective. It caused him all kinds of problems including neuropathy in his fingers. After discontinuing that drug, he began taking biweekly doses of another chemo called Avastin which effectively shrunk the tumor. That became his routine through the rest of high school – trips to get chemo every other week.
"I had a pretty good attitude, but I'd be lying if I said I kept positive the whole time," Andrew said. "The early teenage years were tough. I had played baseball all my life and had to give it up because the other guys grew bigger and stronger and I didn't. But I began to focus on music and loved being a part of the band and drumline. I finally decided that I wasn't going to let my height bring me down!"
In the fall, Andrew will be attending Georgia College & State University in Milledgeville where he will major in nursing.
"I spent five years watching what nurses do," Andrew shared. "I have seen how important they are to the healing process and I think I will be able to relate to patients in a special way with all I've been through."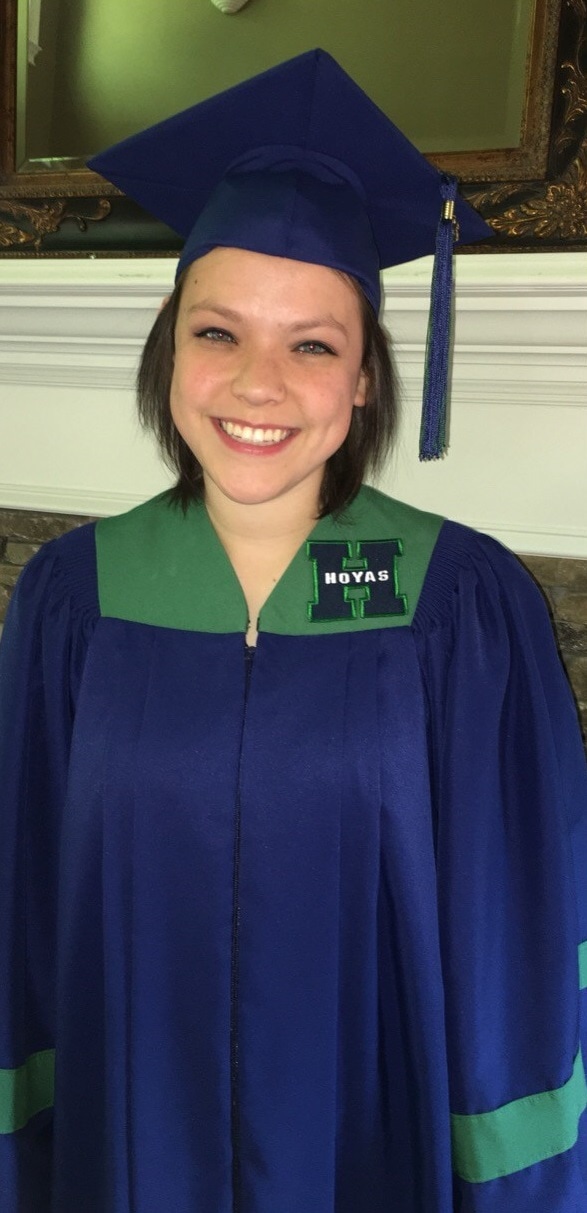 Maddie Harris uses the line, "The tassel was worth the hassle." And for her, high school started as a huge hassle. On the day after Thanksgiving during her eighth-grade year, Maddie noticed an odd bruise on her lower leg. It continued to get worse until just days later she couldn't walk on it. X-rays led to an MRI which revealed a tumor and on December 6th, Maddie was diagnosed with Ewing's sarcoma.
She had a port placed and began the standard mix of chemotherapy. One of the drugs she had to endure was Doxorubicin – otherwise known as "the red devil." Maddie had a severe reaction to this drug. Her feet blistered all over and she couldn't walk on them. This side effect abated and she went on with treatment. Although it was hard on her, Maddie was more concerned with others.
"The toughest part for me was trying to keep my friends calm and reassuring them that I was going to be okay, even when I felt terrible," Maddie recalled. "They acted scared around me and I wanted them to know that even though I was sick and bald, I was still Maddie."
Maddie's treatment would last until the middle of her freshman year at Harrison High School. She didn't get to go to school until the fourth day and by that time, all of her classmates knew their way around and she kept getting lost in the hallways. But the school and her teachers were very supportive. Some even came to her home to help with lessons.
That was three years ago. Maddie just took her last final and will start her freshman year at Georgia College & State University in the fall – where she plans to arrive on time! She isn't completely decided on her major, but wants to work with children and is considerting therapy or counseling – which is no surprise considering her life experience and compassion for others.