Hannah Hazen is a busy young lady. As school starts back, she is jumping into JV soccer season, FCA and DECA meetings, and the student government. But with all that's going on, she is still mindful to take the time to express thanks – and she's got a lot to be thankful for.
Hannah's world changed last March when she was diagnosed with Hodgkin's lymphoma and began a very difficult chemotherapy regimen. Throughout her six-month treatment, she proved her toughness by pushing through the hardest days.
"I couldn't avoid missing a day of school when I had a treatment," Hannah said. "But even when I was tired or felt bad, I pushed myself. I had missed the end of my 8th-grade year and was determined to be at high school as much as possible."

Her actual treatment is only a small part of the story. When Hannah looks back at 2021, she will mostly remember the amount of love and support she got from family, friends, neighbors, and even complete strangers. Early in her treatment, Covid-19 forced CURE to hold Lauren's Run & Picnic virtually. So friends and neighbors decided to form Team Hannah to raise money in her honor. They set a fundraising goal of $2500 but raised more than $13,000 in the end. On race day, about 75 people gathered in her front yard and ran a 5k with her.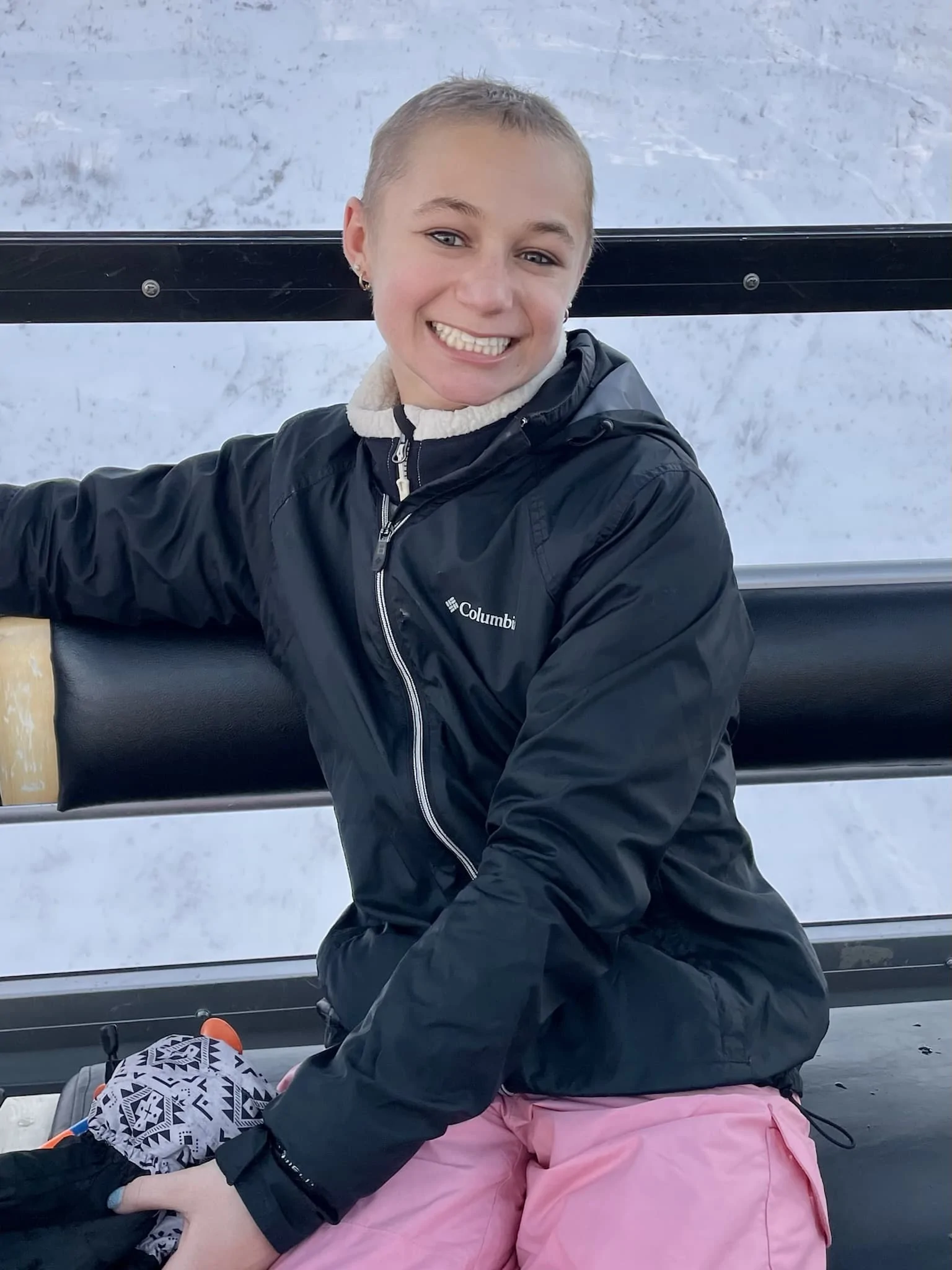 While she is incredibly thankful for the support of CURE, her gratitude goes way beyond fundraising.
"Everyone has been so great to me," she said. "It was humbling to have so many neighbors, students and school staff encouraging me. I wore a wig one time, and it just didn't feel like me. But no one has ever made me feel bad about being bald. I am confident in my baldness, but I am also glad that I've got a little fuzz growing back now."
Her neighborhood even surprised her with a parade after she finished her treatment!
"I'm so excited to be cancer-free," Hannah shared. "And I couldn't have done it without everyone's help."
With that in mind, Hannah wanted to thank everyone but couldn't figure out how to do it without leaving anyone out. So she decided to write a note that her mom could put on Facebook. Here is what she wrote:
Dear Everyone,
Thank you so much. I have received so much love and support while going through this very tough time. I am so thankful for all the lovely, kind, and beautiful gifts and letters of encouragement. Reading through all of the letters gave me the strength I have needed to fight. To all the people who have come to my rosaries, I thank you for praying with me. And everyone who has provided us with a meal. I am so thankful. Without all of this love and generosity I could never have done it. It is crazy how many people care about me and my family over the whole world!
With lots of love,
Hannah
Hannah learned a lot last year. But she's also teaching us all a good lesson in gratitude.