Larry Connolly was recruited to CURE's Board of Directors in 2006 by his good friend, Vernon O'Neal. He ended up serving on the board for nine years, including two years as president, one as vice president, and one year as treasurer. Those years were pivotal years for CURE, during which the organization experienced tremendous growth.
Larry sold his company in 2012 and started the Connolly Family Foundation. After looking for the best way to support CURE now and in the future, Larry decided to focus on CURE's partnership with Emory University School of Medicine in support of fellowship training. Larry decided to work with CURE to create a fellowship endowment at Emory.
CURE has funded fellows for more than 20 years, and 18 former CURE fellows are now practicing medicine in top institutions around the country, treating patients and pursuing research for cures. The funding of a pediatric oncology fellow allows these young doctors to further their education and ensure that they become clinicians and researchers focused on cancers that affect children. Larry is a staunch supporter of CURE's vision to invest in the training of these young doctors and sees it as beneficial for more than just the young doctor funded.
"What I like about providing funding for a fellow is that it is not only good for CURE, it is good for the city of Atlanta," explained Larry. "This funding will hopefully bring quality young professionals into the city and keep them here to the benefit of our children."
By making this an endowment, it isn't one fellow who will be funded. The CURE Connolly Family Fellow is a lasting legacy that will perpetually fund fellow after fellow for years to come.
The first Connolly Family Fellow is Dr. Sanyu Janardan.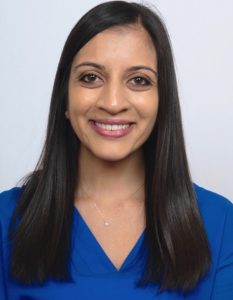 Dr. Janardan earned her MD at the University of Minnesota and completed her pediatrics residency at Yale. Dr. Janardan's fellowship research will focus on studying barriers to exercise in childhood cancer survivors and she will be completing her Masters of Science in Clinical Research at Emory University during her fellowship.
"Because of your generosity, I will be able to dedicate my time and energy to my research during my second and third years of my fellowship," Dr. Janardan said. "My goal is to study the late effects of treatment in childhood cancer survivors. This is a topic I've been interested in since medical school and I'm excited to be able to further explore this area during my research time in order to help make meaningful contributions to our patients and improve their long-term outcomes."
CURE is grateful to Larry Connolly for his years of dedication to CURE and to him and the Connolly family for entrusting us with this gift that will impact children fighting cancer for years to come.
"It is very gratifying to observe from afar how CURE continues to evolve and is making such an impact on so many lives."

-Larry Connolly