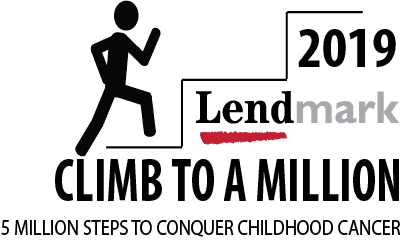 Although it was one of the hottest days of the year, the 4th annual Lendmark Climb to a Million went off without a hitch. Even the heat didn't deter hundreds of employees, friends, and family members from walking, running, and climbing at the Oconee County High School track.
The event was inspired by Chip Madren, and was held on the 9th anniversary of his brain tumor diagnosis. Bobby Aiken, CEO of Lendmark Financial, has been friends with Chip's father since childhood and created the Climb to a Million as a way to combine his love of stadium running with a fundraiser that would engaging his company's employees, partners, and vendors in the fight against childhood cancer.
Events, fundraisers, and smaller climbs were held throughout the country by Lendmark employees. Through their combined efforts, the Climb to a Million raised an amazing $552,000 to advance CURE's Precision Medicine Initiative. This pushes the total amount to $1.8 million and helps CURE move the needle in bringing advanced treatment options to children fighting cancer.
"We are inspired by Lendmark and their incredible commitment to make a difference in the lives of children with cancer," said CURE's Executive Director, Kristin Connor. "They saw a problem and set out to fix it in a creative and fun way. Their energy and passion is contagious!"
Read more about Lendmark on their website
Lendmark CEO, Bobby Aiken and Chip Madren before the Climb